"GPAC" Go Pantry Ambassador ​Council
Applications for 2022-23 Student Ambassadors are open!
We are looking for self-motivated, hard-working, service minded, professional young adults who have a heart for feeding kids in our community. If that sounds like you, we would love to meet you.
As a GPAC member you will be invited into the leadership of GO Pantry. You will participate in leadership meetings where we discuss growth and direction as we try to meet increasing demand in our local schools. You will also be part of our leadership team in packing events and community outreach activities.
Interested in joining our high school GPAC team?
Applications is open for 2022-23 school year! GPAC Application 2022-2023.docx
We would love to add GPAC members from the following schools to round out the team: Campbell County, Cov Cath, Dixie, Grant, Highlands, Holmes, Lloyd, Scott, Simon Kenton,
and Villa.
AUG 22 – Rec Letter & Application Due.
AUG 28 – Interviews will be scheduled.
SEPT 18- First GPAC meeting.
Download application here.
Questions??
Contact Dr Holly Danneman hgdmd6@gmail.com
We are excited about creating opportunities to engage and involve local high school students as part of our leadership team. Our Junior Board and Student Ambassador programs are unique opportunities for high school students to learn about community service through hands-on participation in the leadership of GO Pantry. Led by Dr. Holly Danneman and Matt McMintire, our student ambassadors take an active part in the vision of GO Pantry. ​
All GO Pantry Ambassadors go through a formal selection process where they complete applications and interview with a selection committee. Once selected, they work together as a team to help GO Pantry combat childhood hunger in Northern Kentucky. These exceptional students work hard to raise awareness about childhood hunger in their schools and communities. They facilitate food drives and fund raising events. They take the podium to speak to groups about childhood hunger. They work events in the warehouse and bring new students to volunteer events. This great group of smart, active, passionate student leaders is helping GO Pantry move the community into action as we fight to feed hungry kids in Northern Kentucky.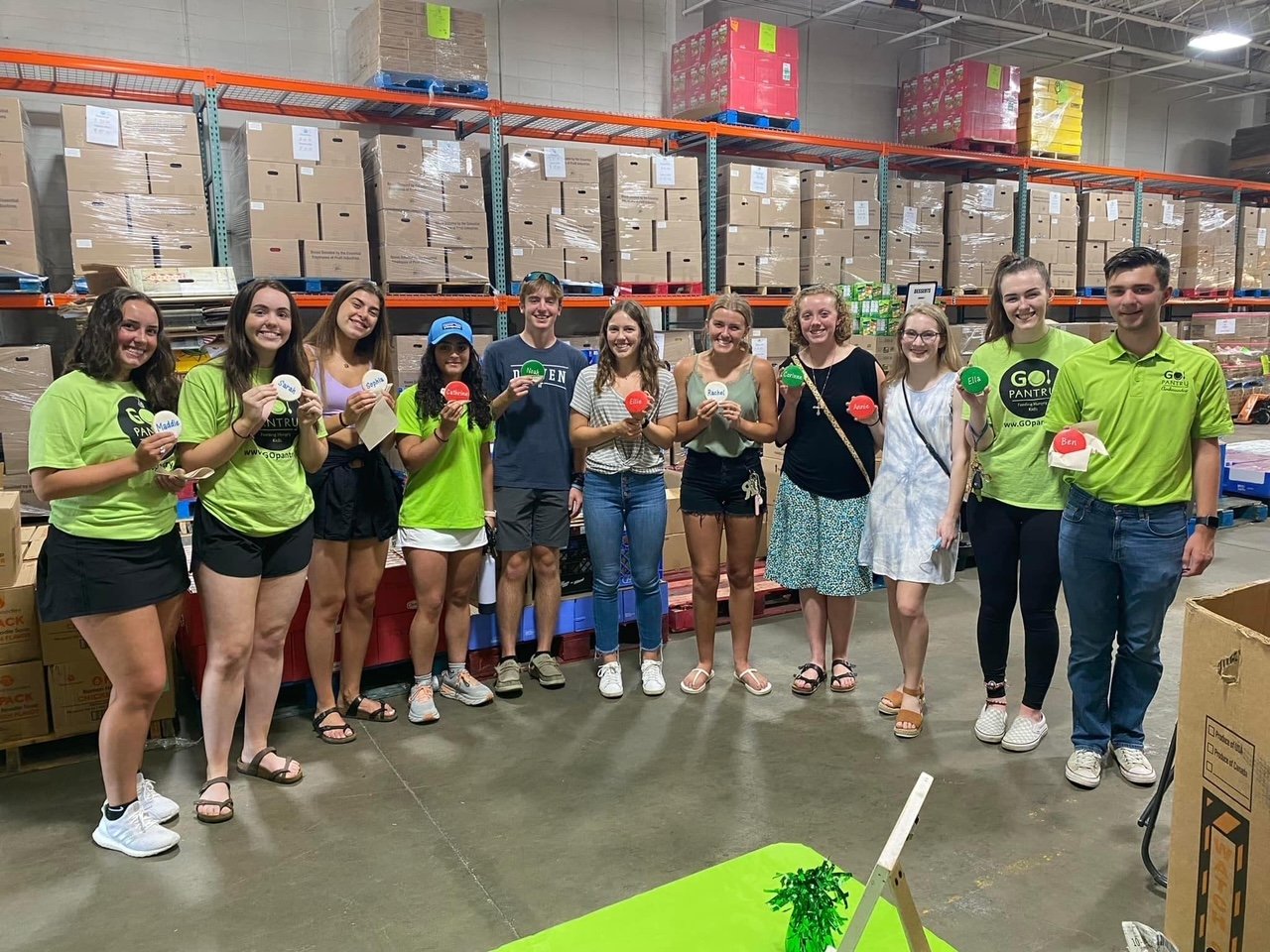 What is a GPAC Junior Ambassador?
A Junior Ambassador is a High School student in Northern Kentucky who has been chosen by the GO Pantry Board and current ambassadors to represent GO Pantry by:
spreading awareness of childhood food insecurity throughout his/her community and school
serving our food insecure families throughout Boone, Kenton, Campbell, Dearborn and Grant counties in ways deemed helpful (food drives, fundraisers, packing events, etc.)
striving to make a difference in his/her community at large by living a life of service to others. 
Objective of GPAC Program:
Empower leadership and service
Build awareness in the schools regarding food insecurity and its barriers.
Enhance and support the mission of GO Pantry
Initiate youth volunteers at GO Pantry events
One year academic term, September through August, with potential for a second term.
There are quarterly meetings. (However, meetings may be more frequent as determined by the ambassadors.)
Take an active part in promoting awareness in the community/school, and attend at least 2 GO Pantry events each semester.
Applications accepted through August 22, 2022. 
Interviews will be conducted by board members and current high school ambassadors in August at the GO Pantry warehouse in Florence, KY.
Applicants must complete the application and submit one letter of recommendation.
This can be submitted by scanning and emailing to Holly Danneman and Matt McIntire at gpambassadorcouncil@gmail.com .  NO late or incomplete applications will be accepted.  NO application will be considered complete without an accompanying letter of recommendation.