Volunteer at a GO Pantry Event!
We couldn't do it without you! We need awesome volunteers to help at community events and at the warehouse. Warehouse duties might include date checking and sorting donations, packing GO Boxes and GO Bags, loading and stacking boxes on pallets, taking plastic off canned goods, etc. Most of our shifts are on weekdays, but we also offer some weekend and evening shifts.
We use SignUp.com to get the word out about volunteer events. The sign-ups give all the specifics including date, shift times, shift descriptions, etc. If you are interested in volunteering, please fill out the form below. Thank you.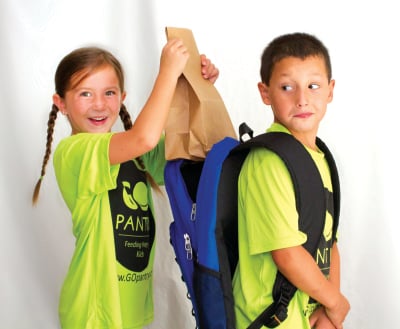 VOLUNTEER TO HOST A FOOD DRIVE
It's easier than you might think!
One of the best ways you can support GO Pantry is by hosting your own food drive. Get creative… work with your kids, co-workers, fellow church members, neighbors, sports teams, retail stores, gym, etc.
Watch this video to see just how easy it can be to host a neighborhood food drive.
Not only will you collect much needed items, you will also help spread the word about GO Pantry the kids we are working so hard to help.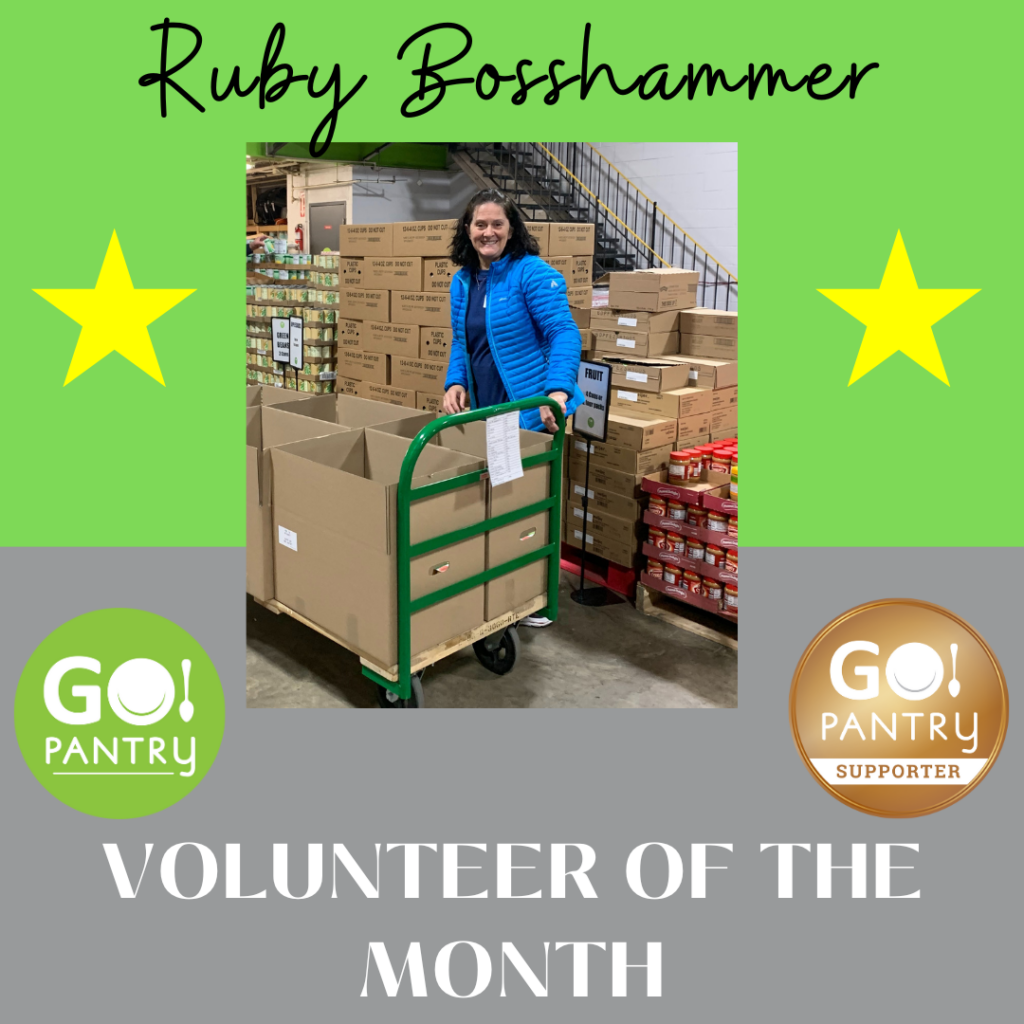 Ruby Bosshammer is a faithful supporter of GO Pantry. Both as a personal friend and as a member of First Church, she has supported GO Pantry since the beginning. She has watched us grow and continues to support us in countless ways. Ruby is an incredibly busy person but somehow always manages to make time to help GO Pantry and the children we serve. She says she is motivated by knowing she is helping children who may not otherwise have food to eat, "The thought of children not having a meal is heartbreaking".
Ruby says her favorite part of volunteering with GO Pantry is getting to see friends while helping those in need. We love seeing you, too, Ruby!
When Ruby isn't volunteering, she enjoys hiking, being outdoors, and spending time with friends and family. Ruby, we are blessed to have you as a friend and GO Pantry supporter! Thank you!
Add Me to GO Pantry Volunteer List
Keep up with the latest volunteer opportunities. GO Pantry uses Signup.com links via email.
We look forward to serving with you!
Kids' Age Requirement
​Because we work in a busy warehouse with lots of moving equipment, we ask kids to be 12+ to work at a warehouse event, and we request kids 12-14 bring an adult with them to work directly with them.
We have lots of groups of young kids that find other creative ways to help too. Other groups of students have worked together to do food drives within their schools, neighborhoods, sports teams, church groups, etc.
We can share with you more details if this is something you might like to try with your kids
Waiver​​ for Minors
All volunteers need to complete a waiver before working at GO Pantry warehouse events.
If you are a minor, please have your guardian complete the waiver prior to event and bring it with you to your volunteer shift. Thanks!