helping local kids get through the holiday
Christmas GO Box
Christmas Break is daunting for many kids in our community. There are kids in every school in NKY that rely on the Free & Reduced Lunch Program for meals during the school year. When school ends, so does their primary food source. With your help, GO Pantry is able to provide emergency food relief to NKY students who might otherwise go without. ​​
Want to help?
Here is how it works. It's as easy as 1, 2, 3.
Signup to fill a box
Head to the grocery store with your family, friends, or co-workers and shop to fill a GO Box.
Drop off the groceries at the following locations:
Drop Dates & Locations
Zimmer Jeep and Schulz & Sons are partnering with GO Pantry to be early drop-off locations.
Nov 16 – 30
Zimmer Motors
1086 Burlington Pike in Florence
Hours: Mon-Thurs 8-7 / Fri 8-5 / Sat 9-5 / Sun 12-4
Schulz & Sons
Kroger plaza in Ft Mitchell
Hours: Mon-Fri 10-6 /Sat 10-5
GO Pantry
7960 Kentucky Dr in Florence
Tues, Nov 29  / 9-11am & 4-6pm
LAST CHANCE  DROP OFF
Sun, Dec 4  /  12-5pm
Drive to the back of the building and we will help you unload your grocery donation.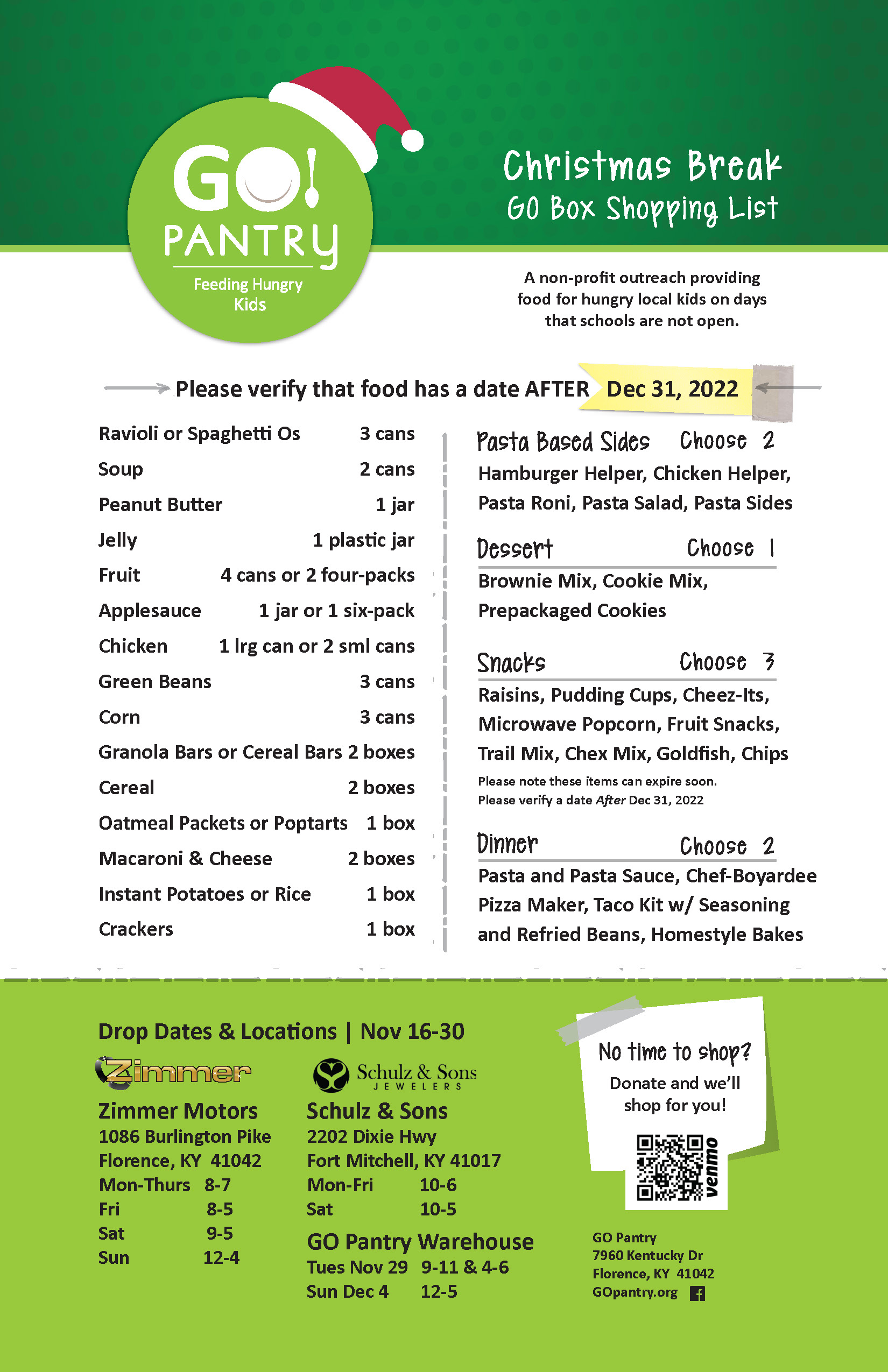 Have Fun Shopping!
Watch how easy it is to fill your GO Box!